The U.S. Immigration Blog by Ashwin Sharma Has Been Nominated for The Expert Institute's Best Legal Blog Contest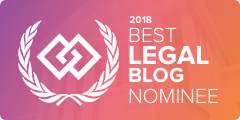 From a field of hundreds of potential nominees, The U.S. Immigration Blog by Ashwin Sharma (www.ashwinsharma.com) has received enough nominations to join the one of the largest competitions for legal blog writing online today.
Our readers can vote by navigating to our blog's voting page at https://www.theexpertinstitute.com/legal-blog/the-u-s-immigration-law-blog-by-ashwin-sharma
Note that each person will only be able to vote once, and The Expert Institute indicates that it will not share any information from voters who register with third parties.
You can find more information about the contest, as well as the complete contest rules, on the blog contest home page.
The competition will run from November 5th until the close of voting at 12:00 AM on December 17th, at which point the votes will be tallied and the winners announced.
The competition can be found at https://www.theexpertinstitute.com/blog-contest/
About The Expert Institute:
Founded in 2011, The Expert Institute is a technology-driven platform for connecting qualified experts in every field with lawyers, investment firms, and journalists looking for technical expertise and guidance. The Expert Institute combines a vast database of pre-screened experts with a talented case management team capable of custom recruiting experts to fit the specific needs of our clients. The Expert Institute also maintains one of the internet's most visited blogs on expert witnesses, in addition to an extensive case study archive and expert witness resource center.